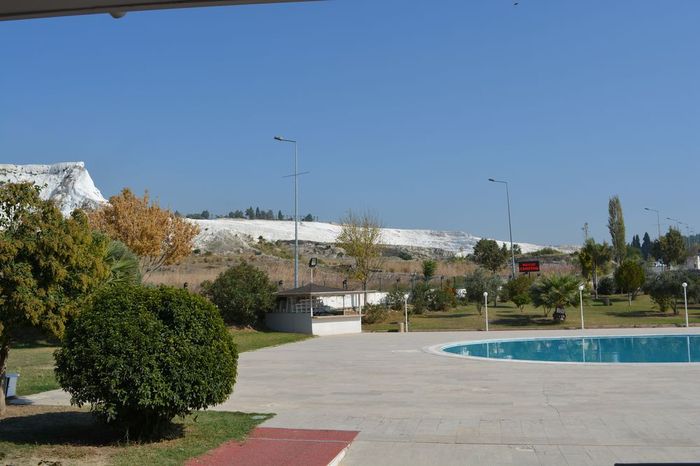 Inside there is the slab on which the body of our Lord lay, and on this slab flfteen lamps of gold burn day and night; it is situated on the north side of the interior of the tomb and lies at one's right hand as one enters the tomb to pray. In front of the door of the sepulchre lies a great square stone, a replica of that first stone which the angel rolled away from the mouth of the sepulchre.
The centre of Jerusalem
On the Feast of St. Martin our bishop came there, and as soon as he reached the spot he began to feel sick and was confined to his bed until a week before Christmas. Then when he recovered and began to feel a little better he got up and went to the church called Holy Sion, which stands in the centre of Jerusalem.
He prayed there and then went to Solomon's Porch, where there is a pool at which the sick used to lie waiting for the angel to move the waters, after which the first who went down into them was cured: this is where our Lord said to the paralytic: "Arise, take up thy bed and walk."
Willibald himself said that in front of the gate of the city stood a tall pillar, on top of which rose a cross, as a sign and memorial of the place where the Jews attempted to take away the body of our Lady. For when the eleven Apostles were bearing the body of Holy Mary away from Jerusalem the Jews tried to snatch it away as soon as they reached the gate of the city.
But as soon as they stretched out their hands towards the bier and endeavoured to take her their arms became fixed, stuck as it were to the bier, and they were unable to move until, by the grace of God and the prayers of the Apostles, they were released, and then they let them go. Our Lady passed from this world in that very spot in the centre of Jerusalem which is called Holy Sion. And then the eleven Apostles bore her, as I have already said, and finally the angels came and took her away from the hands of the Apostles and carried her to paradise.
Bishop Willibald came down from the mount and went to the valley of Josaphat: it is situated to the east of the city of Jerusalem.
Read More about Bulgaria Vacations