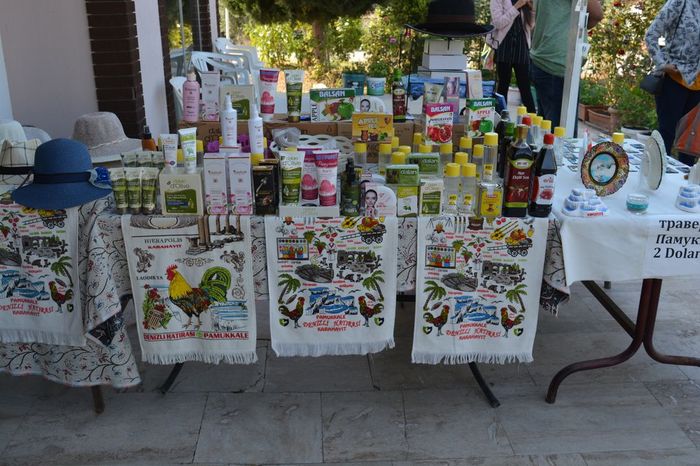 Now, Bohemond took after his father in all things, in audacity, bodily strength, bravery, and untamable temper; for he was of exactly the same stamp as his father, and a living model of the latter's character. Immediately on arrival, he fell like a thunderbolt, with threats and irresistible dash upon Canina, Hiericho, and Valona, and seized them, and as he fought his way on, he would ever devastate and set fire to the surrounding districts. He was, in very truth, like the pungent smoke which precedes a fire, and a prelude of attack before the actual attack.
These two, father and son, might rightly be termed " the caterpillar and the locust "; for whatever escaped Robert, that his son Bohemond took to him and devoured. However, do not let us cross to Valona with Robert yet, but examine first what he did on the opposite continent.
XV Leaving Salernum, he came to Hydruntum, and there spent a few days waiting for his wife, Gaita (for she too accompanied her husband, and when dressed in full armour the woman was a fearsome sight). After he had embraced her on arrival, he set off again with his whole army, and took possession of Brindisi, the seaport which has the best harbour in the whole of Iapygia.
Eagerly awaiting the gathering together
After swooping down on this town he stayed there, eagerly awaiting the gathering together of his whole army, and of all his ships, transports and long ships of war alike; for he intended to sail for the opposite coast from this port. At the same time, he was also eagerly watching for an answer from the reigning monarch, Botaniates, who had seized the sceptre from the Emperor Michael Ducas; for while still at Salernum, Robert had sent one of the nobles in his cortege, Raoul by name, as ambassador to him.
He had charged him with certain remonstrances to Botaniates, and apparently specious reasons for the impending war. These were that Botaniates had separated his daughter from her betrothed. Prince Constantine (to whom she was affianced, as I have stated above), and taken the crown from Constantine; therefore, he himself was getting ready for war because Botaniates had committed an injustice.
And, moreover, he had sent some presents and letters promising his friendship to the Great Domestic and Commander of the Armies of the West (and this was my father, Alexius). Whilst awaiting these answers he kept quiet at Brindisi; but before the troops had all been collected there, or the greater part of the ships launched, Raoul returned from Byzantium. He brought no answer to Robert's denunciations, and this fanned the flames of the barbarian's anger afresh. But he was even more incensed by Raoul's laying before him arguments to dissuade him from the war against the Romans.
Read More about One Autumn Night part 5