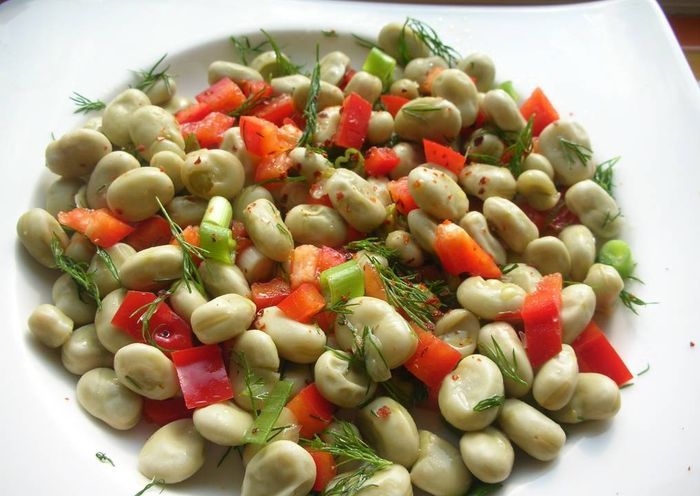 Broad beans with olive oil ingreditens:
500 gr broad beans, 50 gr green onions, 1 carrot, 30 gr olive oil, 1 tae spoon sugar, 2 close of garlic, 1 tsp salt, 1 table spoon finely chopped fresh dill, 1 table spoon flour.
Preparation:
Shell the broad beans. Cut the carrot in julienne strips and saute in a pot with the garlic. In a separate bowl mix the flour with the lemon juice and 2 cups of water and pour over the sauteed mixture. Add the shelled broad beans, green onions, salt and sugar and bring to a boil. Cook until tender, then cool. Add the chopped fresh dill and serve.
Roasted peppers with yoghurt.
Ingredients:
2 red bell peppers, 4 table spoon yoghurt, 2 cloves of garlic, olive oil.
Preparation:
Roast and skin the peppers. Cut in strips. Crush the garlic and mix well with the yoghurt. Spread the garlic yoghurt over the roasted peppers and drizzle with olive oil.
Stuffed squash Blossoms
Ingredients:
20 squash blossoms, 2 cups rice, 1 cup liquid oil, 7 onions, 1 table spoon pine nuts, 2 table spoon currants, 1/2 bunch flat leaf parsley, 1 table spoon dried mint, salt to taste, 1 tae spoon each cinnamon, allspice, black pepper and sugar, juice of 1 lemon.
Preparation:
Pick the squash blossoms early, remove the stamen and pistils and wash. Grate the onions and saute with the pine nuts until they begin to color. Add the cleaned and rinsed rice and stir a few times. To this mixture add 2 cups hot water and cook over medium heat until the water is absorbed. Let steep for 10-15 minutes.Add the finely chopped parsley, dried mint, cleaned currants, cinnamon, allspice, black pepper, salt, sugar and lemon juice and mix well. Stuff the squash blossoms with the rice mixture and close by folding over the petals. Arrange in a pot with water as needed and cook 5-10 minutes. Drizzle with 1/8 cup olive oil and remove to a serving platter
Read More about Communist Bulgaria Tour