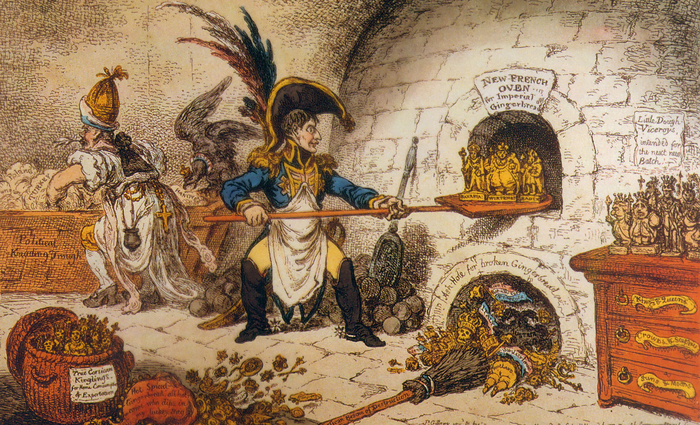 So they stopped and called Howleglass in a great passion, inquiring what vile work he had been doing, and swore and threatened dreadfully. Just then a wagonload of straw luckily went by, and the unhappy party purchased a small quantity, with which to purify the wellbedizened chariot.
Quite enraged, the merchant cried out, "Off to the gallows,you rascal!" and soon after Howleglass saw one not far from the roadside, and driving the chariot right underneath it, he was proceeding very leisurely to unharness the horses. "What is it that you are about, villain?" said his master. "Why," replied Howleglass, "did not you order me to drive off to the gallows? where I thought I was to set you down."
On looking up, the priest and the merchant sure enough saw the gibbet; upon which his master, being seized with a panic, commanded him to back, and drive right away as hard as he could flog.
Hearing this, Howleglass dashed neck and nothing through the mud, so that by the horrible pulling and tearing, the vehicle came straight in two, the hinder part remaining with the merchant and the priest stuck in the mud, and the other proceeding with Howleglass and the horses just as if nothing had happened. At length with much shouting and running the merchant overtook his driver, and was beginning to inflict summary vengeance upon him, when the priest came up and prevented him; and in this fashion they contrived to accomplish their journey, and so home again.
Eat and Drink
Well! his wife inquired how the merchant had enjoyed his journey? "Oh, delightful," cried the merchant, "now that we are safely returned." Then he called Howie glass, saying, "Tonight eat and drink to your heart`s content, for tomorrow you quit this house. I cannot keep you, you are too great a malicious rascal for me."
"All right, master," said Howleglass. And in the morning when the merchant went out, he again said, "Eat and drink, take as much as you like, but do not let me find you here when 1 come home from church." So while the family was at church, Howleglass proceeded as he had been ordered to take what he liked; and very shortly he had almost completely gutted the house.
In short, the merchant met him with a whole load of his goods in the street as he was coming from church. "Ha! my honest cook," he cried, "what are you dressing now?" "What you commanded me to do," replied Howleglass: "you informed me that I might take what I liked, and rid the house of me." "Leave these things where they are," exclaimed the merchant, "and go to the devil if you please." Howleglass said, "I do everything that my masters order me, and yet I cannot live in peace." So he quitted the merchant in a huff, whom he was sorry again to have met with, while the former had his goods conveyed back to the house.
Read More about The Torture of Hope part 3