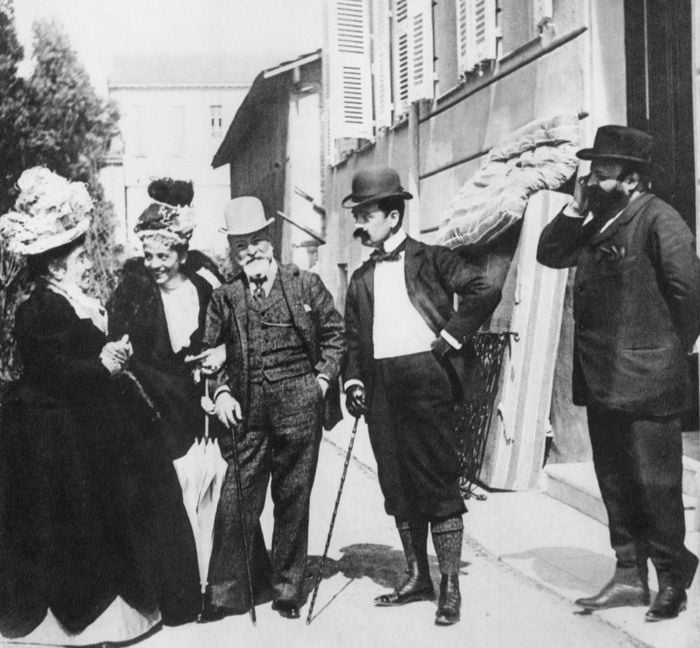 Finally, she decided not to let herself be seen. Every evening for a week she shut herself in her room, trembling with impatience, trying to smother her unhappiness.
One evening Lulu entered her room. "Will you do me a favor?" she asked.
"What do you want?"
"I have a note to write," said Lulu. "Roberto is alone, out on the terrace. Will you go and keep him company?"
"But I—"F X
Do you wish to stay shut up here? Does it cost you so much to please me?"
"Will you come back soon?"
"I only want time to write four lines."
Summon courage for the ordeal
Sofia turned toward the terrace, trying to summon courage for the ordeal. She paused on the threshold. Roberto was walking up and down; she went up to him.
"Lulu sends me," she said in a low voice.
"You forced yourself to come?"
"Forced—no."
I trembled throughout her whole frame; Roberto was near her, his face transfigured with passion.
"What have I done to you, Sofia?"
"Nothing, you have done nothing. Do not look at me like that," she implored, terrified.
"You know then, Sofia, that I love you very dearly?"
Oh! hush, Roberto, for pity`s sake hush! If Lulu were to hear us!"
I do not love Lulu. I love you, Sofia."
"That is treachery."
"I know it, but I love you. I will go away—"
Lulu in the distance, appearing from another door. Well, have you two made peace?"
But' there was no reply. Sofia fled, hiding her face in her hands; and Roberto remained motionless, silent, as though stunned.
"Roberto!" cried Lulu.
"Lulu."
"What has happened?"
"Nothing; I am going."
And without even taking leave of her, he too went away with a despairing gesture. Lulu followed him with her eyes, and stood there absorbed in thought.
"One here, the other there," she murmured; and previous to that.
Enough! I must take a hand in it."
"And so for all these excellent reasons I cannot marry Roberto Montefranco," Lulu finally said to her mother.
"They are absurd reasons, my daughter," replied the mother, shaking her head.
"In short, must I tell you frankly and plainly that Roberto does not please me, and that I am not going to marry him?"
"It is at least frank; but it is no more than a whim. Roberto loves you."
"He will console himself."
"You have exchanged promises."
"We can retract them. We are no longer living in the days when people were married by force."
"What will the world say?"
Read More about The Torture of Hope part 4