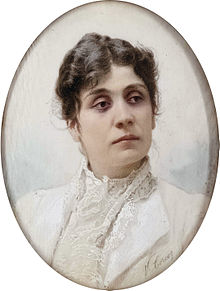 "And very capricious—"
"Lacking in judgment—"
And a whimsical creature. I am everything you like; lecture me,
I deserve it. Come; have you nothing to say? I am waiting."
"Give me a kiss, and go to bed. Good night, baby."
"Thank you, mamma. Good night."
"It is better so," thought the good mother. "Lulu is too young yet. Every day one sees the sad consequences of these marriages of convenience. May Heaven free us from them! It is better so."
What diplomacy
Uff! said Lulu, taking a deep breath. "What diplomacy I was forced to use, what art in order to convince mamma! I would make a perfect ambassador. What a triumph! Not like a triumph of love, to be sure, but it is Lulu`s triumph!"
She paused outside her sister`s door and listened. She heard every now and then a repressed sigh. Poor Sofia had lost her peace of mind.
`Sleep, Slofia, sleep,"