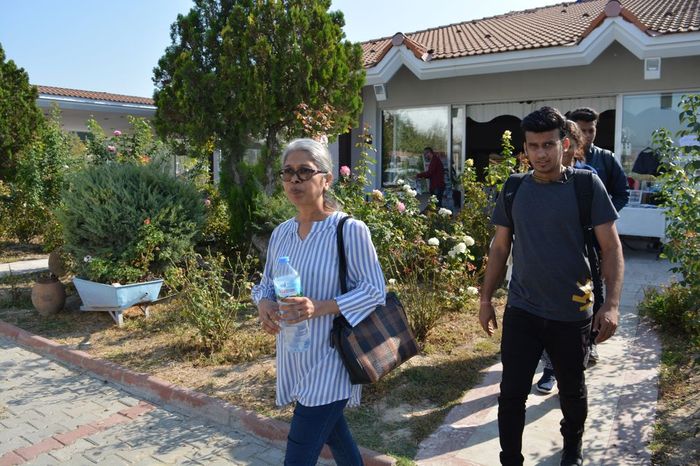 The Roman Empire really brought this formidable foe upon herself by affording a pretext for all the wars he waged against us in proposing a marriage with a foreign, barbaric race, quite unsuitable to us; or rather it was the carelessness of the reigning Emperor, Michael, who united our family with the Ducas. Let no one be angry with me if I sometimes censure one of my blood-relations (for I am allied by blood to the Ducas on my mother's side), for I have determined to write the truth before all things, and, as far as this man is concerned, I have voiced the general censures. For this same Emperor, Michael Ducas, betrothed his own son, Constantine, to this barbarian's daughter, and from that arose all the hostilities. Now, we shall give an account of this prince Constantine in due course; also of his nuptial contract, in other words this barbaric alliance, and also of his appearance, and beauty, and size, and physical and mental characteristics.
Robert Guiscard
At that point I shall also briefly deplore my own misfortunes after I have told the tale of this alliance, and the defeat of the whole barbarian force, and the death of these pretenders from Normandy, who had been reared against the Roman Empire by Michael's want of prudence. But first I must retrace my steps a little, and speak of this man Robert [# Robert Guiscard, Duke of Apulia and Calabria, son of Tancred] , and give details of his descent and career, and relate to what a pitch of power the turn of affairs had brought him, or to put it more reverentially, bow far Providence had allowed him to rise by shewing indulgence to his mischievous desires and machinations.
This Robert was Norman by descent, of insignificant origin in temper tyrannical, in mind most cunning, brave in action, very clever in attacking the wealth and substance of magnates, most obstinate in achievement, for he did not allow any obstacle to prevent his executing his desire. His stature was so lofty that he surpassed even the tallest, his complexion was ruddy, his hair flaxen, his shoulders were broad, his eyes all but emitted sparks of fire, and in frame he was well-built where nature required breadth, and was neatly and gracefully formed where less width was necessary.
Read More about Soup diet