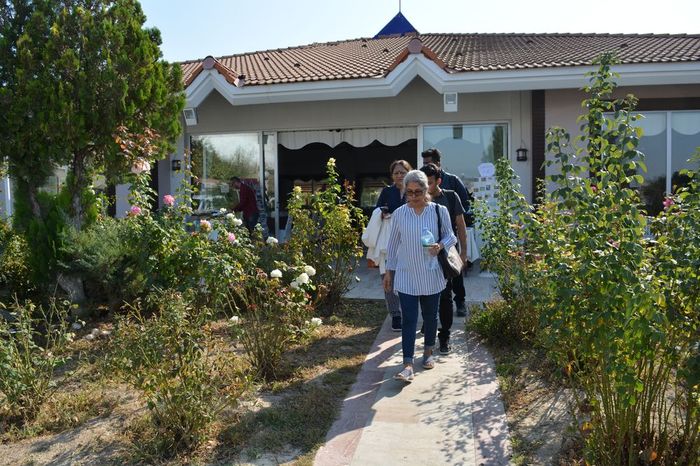 Even so, he was not satisfied with what had been accomplished, nor did he relax over the rest of the business, as if he had gained sufficient glory, but he annexed several more cities and fortresses and placed under the protection of the Emperor those which had I fared badly during Ursel's regime. Then he turned his horse's head, and rode straight to the Royal City. But when he had reached his grandfather's city he allowed himself and the whole army a short rest from their many labours, and after that he manifested as marvellous a deed as Heracles did in the rescue of Admetus' wife, Alcestis.
For a certain Docianus nephew of the former Emperor, Isaac Comnenus and, cousin of this Alexius (a man too of good standing, both by birth and worth), seeing Ursel bearing the marks of blinding, and led by the hand, heaved a deep sigh, burst into tears over him and denounced the General's cruelty. Yea, he heaped blame upon him, and upbraided him for taking the sight of such a noble fellow and a downright hero, whom he ought to have left unpunished.
To this Alexius answered; at the time, "My dear friend, wait a bit, and you shall hear the reasons for his blinding"; and in a little he took him; and Ursel into a small room, uncovered the latter's face and shewed him Ursel's eyes gleaming fierily. At this sight, Docianus was struck .dumb with amazement, and did not know what to make of this miracle.
He repeatedly applied his hands to Ursel's eyes in case what he had seen was only a dream perchance, or a magic portent, or some other new invention of the kind; but when he grasped, the kindness his cousin had shewn to the man and the artfulness combined with the kindness he was overjoyed, and embraced and kissed him repeatedly, changing his wonder into joy. And the Emperor Michael, and his suite, and indeed everybody, felt just the same about it.
Emperor of the Romans
IV Afterwards, the Emperor Nicephorus (Botaniates) who had now obtained the throne, sent him away again – to the West this time, against Nicephorus Bryennius, who was upseting the whole of the West by putting the crown on his own head, and proclaiming himself Emperor of the Romans. For scarcesly had Michael Ducas been deposed, and adopted the high-priestly alb and humeral in place of the imperial diadem and cloak, than Botaniates took his place on the imperial throne, married the princess Maria (as I will relate more circumstantially further on), and undertook the management of the Kingdom. But Nicephorus Bryennius, on the other hand, who had been appointed Duke of Dyrrachium in the time of the Emperor Michael, had designs on the throne even before Nicephorus became Emperor, and meditated a revolt against Michael.
Read More about Alexius Part 32