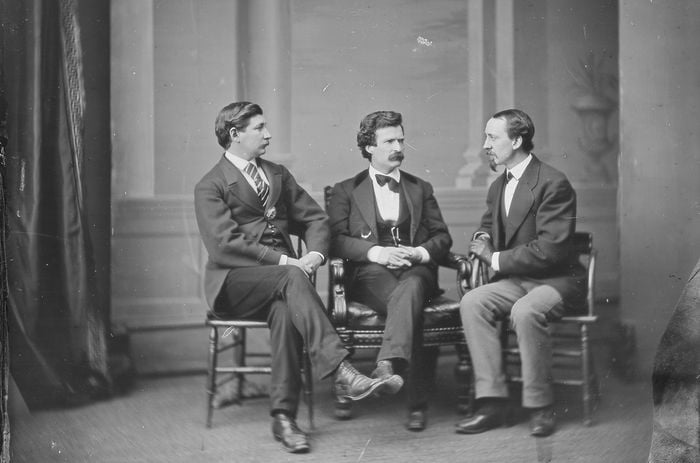 Mark Twain (Samuel L. Clemens) (1835-1910)
Samuel Langhorne Clemens, universally known under his pen-name of Mark Twain, was born at Florida, Mo., in 1835. His early education was fragmentary. He spent some years of his youth as a journeyman printer, wandering from town to town. At the age of seventeen he worked on a Mississippi boat, and later went West with his brother. In Nevada he began to write for the newspapers.
In i86g he achieved his first great success with Innocents Abroad, based on his experiences in Europe. Then followed a long period of travelling, lecturing, business enterprise, and writing. He is one of the best-known American authors throughout the world. Though Mark Twain`s brief sketches can for the most part hardly be considered short stories, there are a few, like that which follows, that may legitimately be included in the category. It is reprinted from Sketches, Mew and Old, 1875.
Journalism in Tennessee
From Sketches, New and Old
I was told by the physician that a Southern climate would improve my health, and so I went down to Tennessee, and got a berth on the Morning Glory and Johnson County War-Whoop as associate editor. When I went on duty I found the chief editor sitting tilted back in a three-legged chair with his feet on a pine table.
There was another pine table in the room and another afflicted chair, and both were half buried under newspapers and scraps and sheets of manuscript. There was a wooden box of sand, sprinkled with cigar stubs and "old soldiers," and a stove with a door hanging by its upper hinge. The chief editor had a long-tailed black frock coat on, and white linen pants. His boots were small and neatly blacked.
He wore a ruffled shirt, a large seal ring, a standing collar of obsolete pattern, and a checkered neckerchief with the ends hanging down. Date of costume about 1848. He was smoking a cigar, and trying to think of a word, and in pawing his hair he had rumpled his locks a good deal. He was scowling fearfully, and I judged that he was concocting a particularly knotty editorial. He told me to take the exchanges and skim through them and write up the "Spirit of the Tennessee Press," condensing into the article all of their contents that seemed of interest.
The editors of the Semi-Weekly Earthquake evidently labor under a misapprehension with regard to the Bally hack railroad. It is not the object of the company to leave Buzzardville off to one side. On the contrary, they consider it one of the most important points along the line, and consequently can have no desire to slight it. The gentlemen of the Earthquake will, of course, take pleasure in making the correction.
Read More about Lulu`s Triumph part 3